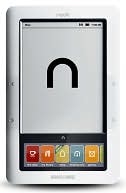 Now the Nook has a new partner in crime – the nook junior.  Prices have been slashed.  A wifi only Nook is currently $149 and the wifi + 3G Nook is $199.  Thank goodness for e-reader competition and price-wars eh?
There were a few snags when the Nook Ebook Reader was initially released.  However, it appears things are a little more settled at Barnes & Noble and that the nook just might be the serious contender against the Kindle 2 and Sony Touch Editions they hoped it would be.
Certainly some of the reviews are really showing the nook as a seriously cool handheld ebook reader.  Much of the technology behind it is pretty similar to the Kindle 2.  In fact the E-ink technology that makes the screen read more like ink on paper rather than anything we're used to in personal electronics is identical for both these and many more big name portable reading devices at the moment.
The nook ebook reader has really been touted as the primary competition for the Kindle 2 reader.  If you need instant downloads on a small portable ebook reader, then for now these two are your only options.  But it is fair to say the nook reading device is also likely to be taking a chunk of the Sony Touch market share too, as it manages to also incorporate a little chunk of touch screen technology into its little body, and at a cheaper price.
Nook Ebook Reader Specification
Okay so here's what the average Joe or needs to know about the nook…
The nook ebook reader is similar in size to the Kindle 2 and Sony Touch, coming in at just under 8 x 5″ with a depth of 1/2″ and weighing 11.2 oz.
Another easy to read 6″ screen using the now infamous E Ink® technology for a near paper reading experience.  This one uses 16 shades of grey for improved contrast particularly when viewing images.
3.5″ Color Touch Screen – under the 6″ view-pane all navigation is done with the first color touch screen to be included with an ereader to date.
Wireless connectivity.  Using both free 3G and wifi through AT&T instant downloads are possible just about everywhere.
5 font sizes available so you can change the text size as you need.
Built in memory capacity of 2GB which allows you to store up to 1500 ebooks.  But with additional memory cards available, this is one Ebook Reader that you simply can never fill up.  Your library can expand for as long as you like!
Battery life is around 10 days with the wireless turned off.
Multiple formats supported.  Now this is where, for many, the nook wins over its nearest rival the Kindle.  Because the EPUB format is read by the nook the supply of ebooks that are readily downloadable to this portable reader is far greater than with the Kindle.   The range of file types supported include  EPUB (Non or Adobe DRM), PDB (Non DRM), PDF, Graphics: JPG, GIF, PNG, BMP and Audio: MP3.  Over a million ebooks are currently available to buy and around 500,000 free titles are also available through Google.
Inbuilt eDictionery included is the Merriam-Webster's Collegiate® Dictionary.
Read ebooks on other personal electronics.  The nook may be synchronised with a variety of other personal devices, allowing you to read part of an ebook on one device then switch seamlessly to another.  Devices supported to date are the  iPhone™, iPod touch®, BlackBerry®, PC, Mac OS®.  To use this service you need to first download the free ereader software to each additional device.
Lend Ebooks.  Ebooks can be lent to other devices for up to 14 days free of charge, allowing a more natural approach to book ownership – ie sharing good titles with friends.
There are a few nice features too.  Things none of us need, but that can make an ebook reader seem that little bit more special…
Plug in some headphones and use the nook as an MP3 Player.
Store photographs and even create personalised screen savers.
Search your library by swiping through the front covers in full color or a simple QWERTY keyboard all on the 3.5″ LCD touchscreen.
If you want a wider range of easy to download ebooks the nook ebook reader is perhaps a better bet than the Kindle 2.  But if you're primarily reading newer titles those million extra ebooks available will probably be surplus to requirements.  The view should be pretty indistinguishable between the two readers.  Both offer instant downloads with free 3G, though B&N also offer free wifi in their stores (not that useful we imagine – if you're in a bookstore is a faster ebook download that important).